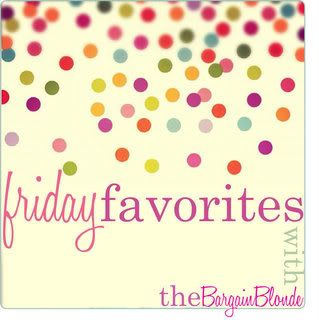 Ok, there are so many things that I am loving right now, so I am going to have to narrow this down just a bit.
~ Old Navy Polka Dot Sweater ~
I seriously can not wait to wear mine.
I got it in green, as well..
Bring on the fall weather.
~ Stella & Dot Bracelets ~
I seriously love every single one of them, but the two I have been sporting the most are the Foundation Bracelet and the Renegade Clusters.
The Foundation Bracelet
is seriously one of my favorite pieces!! I think I find a way to fit this in no matter what I have on.
The Renegade Cluster
is another daily wear. After literally wearing my gold one all the freakin' time, I purchased the silver. I love it just as much!!!!
~ New Computer ~
As I said on Monday, Kendol got a wild hair and purchased us a new laptop on Sunday. (If you know Kendol... this is way out of character ha!) After going so long without a computer at home (screen busted on our old one), I have been loving having this new beauty around. Thank goodness for crazy good Best Buy deals!
Ok, so I haven't changed out the 6 cds in my car since I got it almost three years ago. Probably even longer ago than that, a co-worker asked to borrow an Elvis cd for her daughter's school project. I took my cd case into work and it stayed there until we moved offices. Insert this gem. I went scouring through the cd case to see what I could dig up and let me tell you, I hit the Old School Jackpot. I have not listened to anything else since I put this sucker in.
Dance Party for One.
A few of it's glorious tracks: Bourbons & Lacs, Dirty Pop, A Little Missy Elliott (one time!), Shout, Widespread's Little Lilly, Champagne High (love that song), Remix to Ignition..and let's not forget the theme song from Salute Your Shorts (So random.. hysterical) It seriously gets better with every song...
May you download or pull out a few of these tracks over the weekend have yourself a dance party.
Happy Weekend Lovelies.
....and I'm going to need one of these before Christmas season.
LEGIT